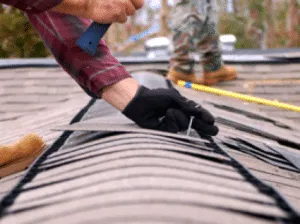 There are several types of roofing shingles available. At Mountaintop Roofing & Solar, we work with the finest manufacturers so we have a wide selection of quality roofing shingle options. We strive to be able to offer a comprehensive selection to Denver home and business owners. Our roofing technicians are also well trained and experienced in working with the unique properties of each type of shingle. We can repair, install and maintain every type of roofing material there is. That is why we are the top resource for Denver roof shingles.
Asphalt Shingles
By far the most popular and well-known roofing shingle (and roofing material at all) is Asphalt Shingles. These are the most affordable and some of the easiest to install. They have a moderate lifespan and provide your building with a decent amount of protection from the elements while also lending your exterior design a classic look. Even within asphalt shingles, there are several types to choose from, each with their own advantages. Standard 3-tab is the most affordable, while there are also composite asphalt shingles, architectural shingles, and specialty asphalt shingles; all offering varying levels of protection from elements and blowoffs, lifespan and ease of maintenance. Aside from the various practical advantages of each, they also offer versatile design options based on color and shape.
Wood & Shake Shingles
Natural wood shingles are a very popular choice in Denver. That is because they provide the most unique and beautiful aesthetics over most other shingles. Wood shingles are slightly more expensive, and due to the fact that they are made from organic material, will require more maintenance. However, they are more durable than asphalt, have a longer lifespan and are more energy-efficient. Beyond these advantages, they are also eco-friendly, as they are made entirely from wood. Wood and shake shingles offer a bit of aesthetic versatility since they can be made from different types of wood. Your wood shingles can be made of pine, redwood, cedar or cypress. Wood shingles truly provide your building with a gorgeous and unique look overall.
Rubber Roof Shingles
There are enormous benefits to rubber roofing that most businesses and others with a flat roof have been able to enjoy for years. A relatively new addition to rubber roofing options is rubber shingles, however. Rubber shingles look much like wood or slate tiles, but they outperform all the rest. These shingles are made from recycled materials so they are extremely inexpensive. Aside from their affordability, they are virtually weatherproof. Rubber creates an airtight seal that makes it almost impossible to experience leaks. This roofing is also fire and lightning resistant. Rubber tiles stand up to hail storms better than anything else and they have a 75-year life expectancy. When it comes to advances in roofing technology, rubber shingles may be a clear winner.
Metal Shingles
Metal roofing has always been recognized as some of the best roofing there is. Now, interlocking metal shingles offer the same protection as other metal roofing types, but in a more aesthetic shingle option. With shingles, your metal tiles can mimic the look of just about any other roofing type there is. Get all the aesthetic benefits of your favorite roofing material and also enjoy the protection of metal. Metal shingles are almost indestructible. They are weatherproof, waterproof, sun-proof and damage-proof. They require almost no maintenance and the best part is, metal shingles are designed to last a lifetime.
As you can see there are many more shingle options available now than ever before. When you are ready for a new roof, consider shingles as your roofing material choice. Give the roofing experts at Mountaintop Roofing & Solar a call and we'll help you decide which ones will best serve your needs.