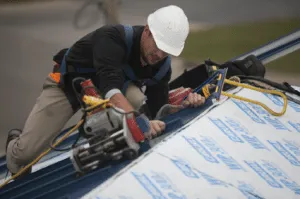 Your roof is one of the largest and most valuable investments you have in your home or business. For as long as its serviceable life you will benefit from having quality repairs done. However, when the time comes that repairing costs more than 50% the price of replacement, you may need to evaluate your options. Mountaintop Roofing & Solar is your trusted roofing professional in the Denver area.
We've proudly served Denver residents since 2007 and have built a reputation for integrity and accurate estimations. We can help you determine not only whether replacement is the right choice for your roof but what type of roofing best suits your needs. We will always work with you to find the most affordable and convenient option, and that is why we are the premier choice for Denver Roof Replacements.
At Mountaintop Roofing & Solar we pride ourselves in fast and efficient work. We aim to expedite construction time and minimize inconvenience to you. We are also known for keeping a very tidy work area and we always clean up when the job is done. During construction we prioritize safety for your family, our crew and your property. Our work is always well supervised and someone is available to answer questions and speak with you throughout the whole process. We always complete our roof replacements on time and on budget. When you choose Mountaintop Roofing & Solar for your roof replacement, you'll experience what it is like to work with a true professional.