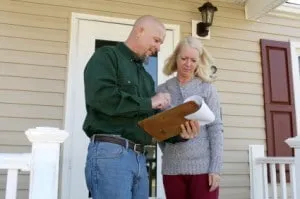 When disaster strikes, it's good to know you've got a friend in the business. Roof storm damage happens to all of us. Strong winds take their toll on even the best roofing. Some types of roofs are more susceptible than others, but all types of roofs take damage. It's inevitable that damage will occur. When this happens, you need to act as quickly as possible.
At Mountaintop Roofing & Solar, we treat every customer like family. Our Denver Roof Inspection Specialists are ready to provide you with an honest and thorough, no-obligation property damage inspection. In fact, we pride ourselves in making the entire process of inspection and insurance claims as smooth as possible. When you have us inspect your roof, a detailed assessment of your damage will be provided to you along with a repair report for filing your insurance claim. And when it comes to insurance damage, it is important that you have a roofing professional you can trust to give an honest estimation. If you aren't already familiar with our reputation, we invite you to take a deeper look and you'll see that we are the roofers Denver trusts.
We've been serving the Denver area since 2007. In that time we have developed an expertise in dealing with the specific requirements of insurance claims. We've also built relationships with insurance agencies, so we can help walk you through the claims process. When severe weather hits, sometimes damage can occur that is unseen, and may remain unseen for awhile. If you aren't aware of it, you could be stuck with a repair bill months down the road. Insurance exists to protect us from the unexpected, so when Mother Nature subjects us to her wrath, call on Mountaintop Roofing & Solar for a quality roof inspection.
When Should You Get A Roof Inspection
You may also want a roof inspection for reasons other than storm damage. If you are purchasing a home, along with other inspections, having the roof inspected helps to ensure you aren't purchasing problems along with your home. If you have never had your roof inspected and you suspect your roof is starting to have problems you should call on us. We can determine the extent of damage, future damage as well as repairable years left on your roof. That way you will be armed with the knowledge of whether repair or replacement will suit you best.
Whether your roofing damage is from normal wear and tear or due to a storm, we've got you covered. Don't trust your family and home to anyone other than Denver's number one roofing inspection specialists; Mountaintop Roofing & Solar.