Flat Roofing Contractor in Denver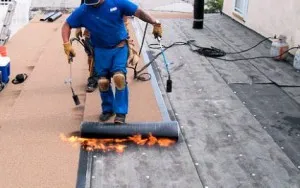 Most commercial buildings have flat roofs. For maintenance, repair, and installation, business owners have been utilizing the expert contractors at Mountaintop Roofing & Solar located in Denver, Colorado for almost a decade. Furthermore, the team of highly trained flat roofing contractors possesses the specialized skill and equipment needed to help you choose the roofing option best for your business.
Mountaintop Roofing & Solar understands the unique needs of businesses and the importance that a well crafted and maintained flat roof imparts. Roofing issues could mean a loss of customers, inventory, and your hard-earned financial investment. Make sure to choose Mountaintop Roofing & Solar, the number one choice in Denver for your flat roofing needs. The expert team understands the unique needs of your business and ensures that all service calls are prompt, completing work in a quick and professional manner.
The contractors at Mountaintop Roofing & Solar offer a number of flat roofing options. These include:
Built-up roofing (hot mopped)
Modified bitumen roofing
Membrane roofing
In addition to commercial buildings, some residential buildings such as apartment buildings and row houses or townhomes also have flat roofs. The roofing experts at Mountaintop Roofing & Solar also repair and install residential flat roofs.
Benefits of roof coatings over a total tear-off and roof replacement
AFFORDABILITY: Extend the life of your roof for less than half the cost of a total roof replacement. Re-coating your roof will also save on labor costs and extend the life of your existing roof.
ENVIRONMENTALLY FRIENDLY: Our coating systems can help lower energy costs due to our high solar reluctance which will result in a reduced impact on the environment. Our roof coatings will also eliminate the issue of waste and disposal of the old decking and roofing system from a tear-off/roof replacement.
SPEED: A roof coating system will save you time and money without any interruption to normal business operations
PROTECTION: Protect the huge investment of your building and everything inside by preventing damage caused by wind, water, UV Rays and other environmental impacts.
WATERPROOF: Our seamless membrane is highly flexible for the natural expansion and contraction of your roof, creating a water-tight seal.
AESTHETICS: We offer a variety of 12 standard colors as well as custom colors with a minimum gallon order that can match any existing roof color.
LONG-TERM DURABILITY: We offer Product and System Warranties
CERTIFICATIONS AND ASSOCIATIONS: Depending on product, we offer: Energy Star, Miami-Dade, CRRC, PRI Validation, Fire Resistance / UL Ratings, FM Approved, ASTM Tested, SPFA, NRCA and RRCI.
What is Built Up Roofing?
Built up roofing is also known in the industry as "hot mopped." Essentially hot adhesive is mopped over the surface of the roofing deck and topped with asphalt coated fiberglass.
This process is repeated three or four times until the adhesive and fiberglass create a tight seal keeping water and air out. The very top layer is kept in place with crushed gravel for added insulation and protection from UV rays.
This economical roofing option weatherizes the roof keeping the elements out. A built-up roofing system typically lasts 15 to 20 years.
Modified Bitumen Roofing
Worker installing tar foil on the rooftop of a building.
Bitumen is a super adhesive made from asphalt and polyester. It has similar qualities as rubber and is extremely elastic making it incredibly durable.
Modified bitumen can either be a single layer or built up with multiple layers creating an effective seal against water, air, and natural elements. Modified bitumen is highly resistant to cracks and splitting, making it lower maintenance option than standard built-up roofing.
Membrane Roofing Options
Single ply membrane roofing, also known as "rolled roofing," uses a single layer of membrane — typically a composition of super durable composite materials.
Membrane roofing is the most affordable commercial roofing option because it is the easiest to install. The materials used in these membranes are all exceedingly flexible and durable with very low maintenance.
Single ply membranes are typically rolled out from a thick roll of material. This roofing option does not use a hot adhesive, making it safer with a clean and simple installation process.
EPDM Rubber Roofing: EPDM is a durable synthetic rubber option attached to your flat roof with special tape or liquid adhesives. This choice is extremely cost-efficient when compared to other flat roofing options.
PVC Roofing: PVC membranes offer exceptional durability and are highly resistant to chemical exposure. For example. they're a great option for restaurants that utilize grease and oil ventilation systems that damage more traditional hot mopped rooves.
TPO Roofing: TPO stands for Thermoplastic Polyolefin, an easy to install membrane that comes in a variety of colors. Also, like PVC roofing, it is chemical-resistant, making it an excellent option for restaurants or industries dealing with chemicals and exhaust. Additionally, it's a great option for areas experiencing high winds like those often seen in the Denver area. No matter which membrane roofing option you choose, all provide protection and weatherproofing from the elements with a lifespan of up to 30 years. Mountaintop Roofing & Solar in Denver, Colorado, offers all of these flat roofing options and more. Call today to discuss your needs. Learn more about how these roof types can help protect your commercial or residential properties for years to come. The expert team makes sure all service calls are prompt, completing work quickly and professionally.