Your Number One Roofing Contractor in Thornton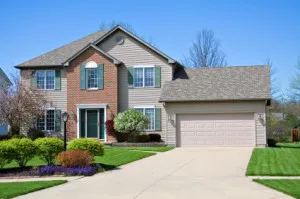 Your roof is by far the biggest and most important part of your building. It protects everything inside from the elements while also providing a large portion of the exterior design. Basically, your roof adds to the beauty of your home while also providing its most important function. When you experience leaks or shingles start to blowoff or your roof takes other damage, you need a reliable roofing contractor and fast. Don't wait until you have to make a hasty decision to find a quality roofer, give Mountaintop Roofing & Solar a call. We have been serving the Thornton area since 2007 with top notch roofing services. Our roofers are professionally trained and extend friendly but prompt service. That is why we are the number one choice for roofing contractor in Thornton.
When you hire Thornton for a roofing job, you will experience working with a true professional. We keep our work area tidy and always clean up after ourselves. We prioritize your family's and property's safety at all times. We are available to discuss the project and answer questions too. We strive to be as quick and efficient as possible to minimize inconvenience to you. Our goal is to leave you with a sturdy, comfortable roof that will last you for years to come. Whenever you need Thornton Roofing Services, give Mountaintop Roofing & Solar a call.
Roofers That Thornton Can Count On
As your roof ages, you will eventually be thinking about replacing it. When the leaks have returned one too many times, it may be time to look at your options. Nowadays there are so many excellent roofing choices available. At Mountaintop Roofing & Solar, we can offer them all. We work with the finest roofing manufacturers, so our selection is wide. Our skilled Thornton Roofing Contractors are also capable of installing whatever kind of roofing you desire. Want a metal roof? You can have standing seam or interlocking shingles. How about slate tiles? Your home will look more beautiful than ever before. Want to try some asphalt architectural shingles? New composite material and shapes make affordable shingles last longer. Maybe you'd like the durable and affordable rubber shingles. No matter what roofing type you want, we can accommodate.
Our roofers don't just offer roofing services either. We are building exterior experts, so we also offer siding. Whether you are looking for wood siding, veneer siding or vinyl, we can transform the look of your entire exterior. Don't ever want to have to worry about painting again? You can get vinyl siding in any color you can imagine. Have a wood house but which you had a stone cabin? With stone veneer siding you can look as if you have an authentic, natural stone cottage. Whatever your exterior needs are, Mountaintop Roofing & Solar is here to help.
Comprehensive Roof Inspections for Thornton Homes & Businesses
There are several good reasons to have a Thornton Roof Inspection done on your roof. For starters, it is a good idea to know the state of your roof so that you can determine more accurately the amount of serviceable years left on it, or if replacement would be more beneficial. Another good reason to have a roof inspection conducted is if you are buying or selling a home. As the buyer, it is important you know that you aren't purchasing any serious repairs along with the house, and as a seller you should know whether there is any damage that could depreciate the value of your home.
Thornton residents commonly call for roof inspections after a storm for insurance claim purposes. The claims process can seem intimidating and complicated, but Mountaintop Roofing & Solar is there to make it simple. We have worked with insurance companies for years and know exactly what they want from an inspection and from the claims process. We can help walk you through it all as well as provide you with a detailed assessment of your roof's current condition and all damage sustained. Our inspections are some of the most thorough in the industry, so you can rest assured your insurance company won't have any questions when we are done. If you need a storm damage inspection, be sure to call Mountaintop Roofing & Solar.