The Best Roofing Contractor in Evergreen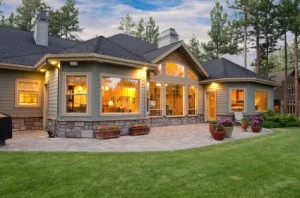 Your roof is by far the biggest and most important part of your building. It protects everything inside from the elements while also providing a large portion of the exterior design. Basically, your roof adds to the beauty of your home while also providing its most important function. When you experience leaks or shingles start to blowoff or your roof takes other damage, you need a reliable roofing contractor and fast. Don't wait until you have to make a hasty decision to find a quality roofer, give Mountaintop Roofing & Solar a call. We have been serving the Evergreen area since 2007 with top notch roofing services. Our roofers are professionally trained and extend friendly but prompt service. That is why we are the number one choice for roofing contractor in Evergreen.
When you hire Evergreen for a roofing job, you will experience working with a true professional. We keep our work area tidy and always clean up after ourselves. We prioritize your family's and property's safety at all times. We are available to discuss the project and answer questions too. We strive to be as quick and efficient as possible to minimize inconvenience to you. Our goal is to leave you with a sturdy, comfortable roof that will last you for years to come. Whenever you need Evergreen Roofing Services, give Mountaintop Roofing & Solar a call.
Evergreen's Top Choice for Roofer
At Mountaintop Roofing & Solar we have assembled the finest team of roofers in the Evergreen area. Our talented installers can work with any roofing type you need. Whether you are looking to upgrade to a metal roof or standard asphalt shingles, you want to try rubber shingles or the elegant clay tiles, or you have a commercial building in need of flat roofing, we can assist you. We have the specialized training and tools to work with all roofing types, shapes and styles, regardless of the size of your building.
Every roofing material comes with its own advantages. Traditional asphalt shingles still offer a classic look at the most affordable price. Many people are moving to standing seam metal roofing, however, because they last almost twice as long with virtually no maintenance. Another popular new choice has been the rubber roofing. Traditionally rubber roofing was for flat roofs, but there are rubber tiles now available that offer the longevity and strength of metal but are even easier to install. Of course, for an elegant and sophisticated look we also can install for you slate tiles. Slate is a beautiful material that cannot be imitated. It is often used on historic buildings and lasts up to 200 years. No matter what roofing type you decide is best for you, Mountaintop Roofing & Solar can install it for you.
Comprehensive Roof Inspections Protect Your Evergreen Roof
If you are purchasing a new home, a Evergreen Roof Inspection is advised. The last thing you want to do is move into a house and discover you have purchased repairs and damage along with it. To avoid this, have Mountaintop Roofing & Solar come and perform a detailed roof inspection. Our assessment is one of the most comprehensive in the industry. We will give you an in depth look at your roof's current condition as well as any damage, necessary repairs, serviceable years left until replacement and options to solve these issues. For the same reason, an inspection is good before selling your home also. Avoid your home being appraised lower by having roof problems solved before selling.
We also offer insurance claim inspections. We have worked closely with insurance agencies for years and know exactly what information they are looking for. They trust our assessments because they know they are accurate, so we make the claims process much easier for you. If you suffer a storm, give us a call and we'll help you through the claims process.